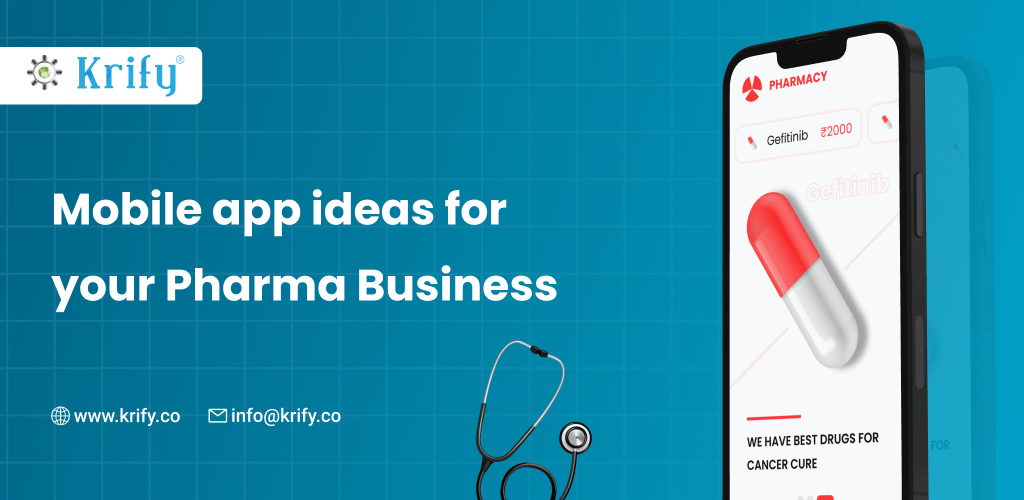 Mobile apps have been a very popular trend in the past few years and it is continuing to grow. In fact, mobile apps are becoming increasingly popular for pharma companies because they allow them to provide their patients with up-to-the-minute information about their medication and also provide other services such as reminders, notifications, and more. With a range of mobile apps for pharmaceutical businesses, it is easy to stay connected with your clients on the go. These apps are designed to help you manage all aspects of your business, from ordering, managing inventory, and reporting on sales.
Advantages of Mobile app for Pharma Business
Mobile apps have many benefits for the pharmaceutical industry. They allow businesses to eliminate paper trails that are prone to errors and offer convenience for their clients. Below we have mentioned some of the benefits:
1. Maximum supply:
Medicine is a necessary supply that is frequently required urgently or on short notice. Because orders are frequently placed directly with bulk suppliers and pharmaceutical companies, there is no shortage. Individuals and even retailers can easily place orders on the app and retrieve parked orders whenever it is convenient for them.
2. Service transparency:
Apps that provide detailed information to patients about the company's functional standards are widely trusted. It contributes to making services more transparent and profitable. The more organised and easily accessible system of information, such as drug details in the description, and more, helps to increase transparency and elevate brand value and authenticity.

3. Administrative management:
Hospitals and clinics are already benefiting from the use of app technology to manage administrative tasks. Pharmaceutical companies can use the same format of a centralised management unit. Such apps can improve the system's efficiency and eliminate errors.
4. Ease of accessibility:
Apps are traversing infrastructure gaps and taking the world closer together. Immediate access to data, health facilities, information, supplies, and other resources improves the patient experience while making doctors' jobs easier. As a result, apps make the process even easier by providing instant online and offline access and an easy-to-use interface.
5. Unified data management:
Cloud-based data management systems integrated into apps can make patients' and suppliers' lives easier. Yet another access can be used to receive, send, or monitor prescriptions, as well as validate them, check the stock level and order history, and do other things.
Features to be implemented in a Pharma-based Business App
1. Simplified user onboarding:
Your users' immediate and long-term experiences should be satisfying enough to keep them coming back for more. A complicated signup process may result in the app being abandoned immediately. As a result, simplify the registration process and provide multiple sign-up and log-in options, similar to Google and Facebook. The splash screen, landing pages, and app interface should all be consistent and entice users to continue using the app.
2. Smooth & layered navigation:
Most of the users will most likely be sick patients. As a result, the very purpose of providing them with an app to ease and convenience should be kept in mind. Enabling layered navigation ensures that everything your app users are looking for is at their fingertips. Create a premium native app that is responsive and fast, and provides an extraordinary user experience. Consider the user's perspective when designing the icon, function buttons, pages, and screens.
3. Smart product search filter:
Smart searching, filtering, and sorting options can help your users achieve their shopping goals. Users should be able to filter medicines and products by the company, disease, composition, order history, and other criteria. Intuitively design and list products and product variations. Display important announcements, sales, and offers on the banner to keep users involved from the start of the session.
4. Seamless payment checkout:
This is the level at which the traffic and engagements turn into sales. Make it a top priority, and make the checkout process as simple as possible. Allow people to modify their cart, claim insurance, view taxes, and apply discounts and promo codes at this juncture. Also, incorporate multiple payment gateways that support different locations and currencies. It will assist you in reaching a broader target audience and thus increase your revenue.
5. Additional features & benefits:
By being more than just a medicine ordering app, you can broaden the scope of your brand. Enhance the customer experience with additional features and benefits, such as information and entertainment. You can go the extra mile to see what your competitors are up to. Remember to choose personalised offerings and to interact with your customers on a regular basis. You can also use in-app marketing and promotion techniques such as Push Notifications. Increase conversions by communicating new offers and updates to your customers, as well as sending trend and price drop alerts.
Conclusion:
Mobile apps for pharma businesses are becoming increasingly popular because they allow companies to provide up-to-date information about medications and other services to their patients. Apps can be used to provide promotional offers and discounts to customers in the area and also be used as a way to track prescription levels. They can even help your business stay compliant by tracking changes in legislation.
At Krify, we have a team of well-trained professionals who are well-versed in developing robust mobile and web applications. If you are looking to develop a mobile app for your pharma business, contact us right away.